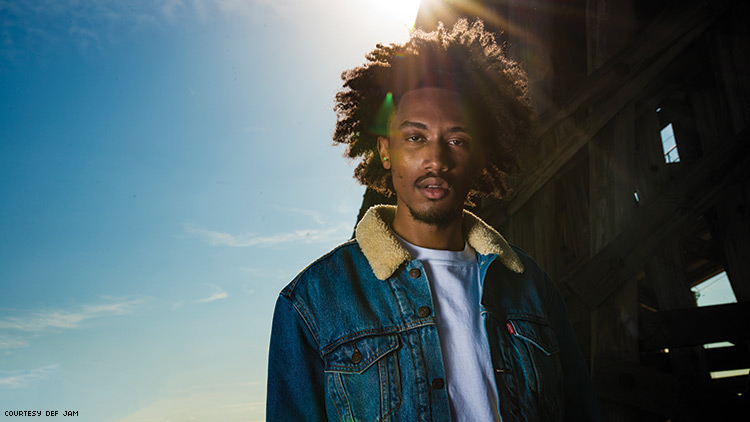 BOBBY SESSIONS
Raised in a predominantly Black, low-to-lower middle-income neighborhood southeast of Dallas, Bobby Sessions was more of a poet than a rapper — until the first time he paired some rhymes with a beat while in college. Once he started performing, he quickly attracted the attention of Def Jam. Sessions released his debut with the lablel, RVLTN (Chapter 1): The Divided States of AmeriKKKa, this summer and Chapter 2: The Art Of Resistance could drop before the end of the year. In 2018, Sessions also recorded the title song for the hit film The Hate You Give.
Tell me about making the music video for "The Hate You Give."
It was a great experience. This was an opportunity to create something that will live forever. We're very grateful that everyone showed up and I'm happy about the final product.
The documentary, The Secret, played a role in your success. Did you tell people about that at the time?
I didn't tell a lot of people when I first saw the documentary. I needed to prove that it worked for myself before recommending it to somebody else. The Secret is not solely responsible for my success. [It] inspired me to study manifestation on a deeper level.
What's the best part about playing HBCUs? Do you have any favorites to play?
Being able to connect with the next generation always feels good. I don't have any favorites HBCUs. All of them have been great experiences. It's an honor to step foot on college campuses again and connect with my people. My music career started at the University of North Texas. I wouldn't have started rapping professionally if I didn't go to college.
How has Dallas influenced your art?
Dallas is home. Learning how to freestyle from studying DSR—Dirty South Rydaz—and absorbing the neo-soul sound of Erykah Badu molded my foundation as an artist.
During college, you first penned a poem over a beat. How did that change your work? What was that experience?
It was a difficult transition. Took several years to figure out the balance between rhythm and poetry. College is a great environment to figure out what you want to be. I discovered that I wanted to be a great rapper.
What's your favorite song of your own and why?
"Black Neighborhood" featuring Killer Mike is my favorite song. It's very artistic. As a fan, it's the song that I most enjoy to hear from my catalog. I wrote that record several years ago. I feel it will hold value forever.
Pages