This summer, Def Jam's groundbreaking Undisputed Tour introduced a blazing hot roster of next-gen hip-hop stars like Beau Young Prince, Bobby Sessions, Casanova, DaniLeigh, Fetty Luciano, and YK Osiris. The fifth annual DTLR | VILLA and Levi-sponsored tour of historically Black colleges and universities kicked off at Morgan State University in Baltimore in October. Stops followed at schools in Atlanta; Orlando; Washington, D.C.; Greensboro, North Carolina; and Petersburg, Virginia. This year's Undisputed Tour concerts (dtlrvilla.com/hbcutour) featured a live broadcast via DTLR Radio, Levi's pop-up customization stations (think personalized trucker jackets), and Def Jam artist meet and greets. We caught up with three guys on the tour in between sets.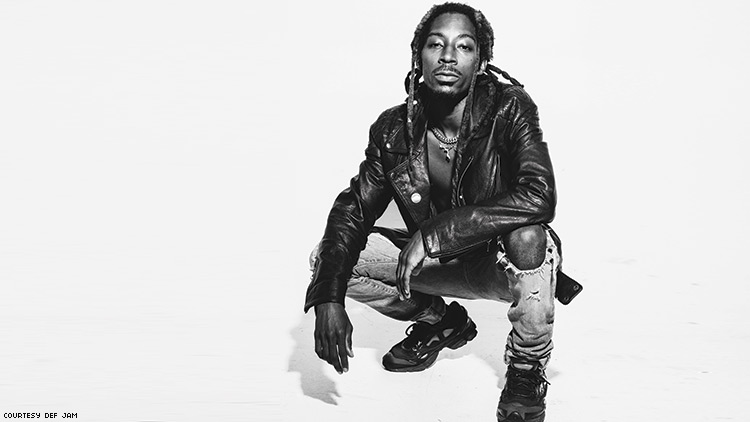 BEAU YOUNG PRINCE
Though Beau Young Prince was born and raised in one of the roughest 'hoods in southeast Washington, D.C, he went on to attend one of the highest ranking private schools in the northern part of the nation's capital. That experience gave him the ability to code switch between two worlds. Trained in classical and jazz, Prince also soaked up a wide range of influences from his family's  eclectic playlist and exposure to D.C.'s legendary go-go scene, which blended funk, rhythm and blues, and early hip-hop.
As a teen, Prince performed every chance he could, signing up for open mics, going head to head with other artists in epic rap battles, and competing in local talent shows. After college, Prince hit it big when, in 2016, his song "Half & Half Tea" hit a million streams and landed on the U.S. 50 Viral Spotify chart, and Spotify's Most Necessary playlist. His critically acclaimed album Until Then was followed by his Sunset Blvd EP that helped him sign with Def Jam. He's performed three years in a row at the SXSW Music Fesitval.
I love that you were a "Southside kid with a Northside education" and can now combine both worlds where most people can't. Does that help you on tour?
Absolutely. I feel like I approach every crowd I am in front of with the sense that I can find common ground between the fans and create a vibe that mostly everyone in the crowd can feel. This comes from my experiences in life having a variety of people around me and growing up in different climates. I know how to reach people.
Your musical background is much broader than a lot of artists. How has that helped your art?
In a variety of ways, my musical background has helped further my art. The biggest example is how I structure my songs. I have a classical and jazz background, and can read and compose music, so when I am writing a song or producing, I often have different moods and sections in my songs reminiscent of movements in a classical or jazz piece. I think jazz has the biggest influence on me because of the way you can improve with the art form. A lot of that can be found in my music. Experimental.
You were a hit at SXSW. Is the experience of playing there different than playing other venues?
Only different in the sense that it is a festival-style performance. I love SXSW because you can always reach new people that may or may not have heard about you, and some of the crowds and venues there are simply amazing. I look forward to going back.
What's the best part about playing HBCUs?
The best part about playing HBCUs is the cultural experience I am gaining while visiting each campus. Every stop has been filled with history, fun, and has been a wonderful experience because I get to see how each campus gets down. I love touring colleges but HBCUs have a different energy to them.
I love "Half and Half Tea." What's your favorite song of your own?
Currently my favorite song is "Kill Moe!" It's like "Half and Half Tea" reloaded!
You opened for Lauryn Hill recently. What was that like?
Legendary. A goal to check off the list. I am honored to have been able to open for the likes of Ms. Lauryn Hill. I grew up on her Miseducation of Lauryn Hill album so moments like those are cherished, especially to be selected by her team to open in my hometown of D.C. Priceless.
Who else would you love to perform with?
People like Travis Scott, Andre 3000 if he ever tours again, Lil Wayne, Kendrick, and many more. 
Pages