His passion for food, history, and activism led Michael W. Twitty, a self-taught culinary historian — and Howard University dropout — on a quest to discover the complex backstory of Southern cuisine. In his award-winning book, The Cooking Gene (HarperCollins), Twitty examines traditional favorites like barbecue, soul food, and fried chicken to ask a very serious question: Who, exactly, created Southern food?
Twitty planted a seed to the answer when he famously called out disgraced celebrity chef Paula Deen in an open letter, amid the controversy over the Food Network star using the N-word behind closed doors. In the letter, which went viral after he posted it on his site Afroculinaria.com, Twitty schooled Deen by tracing the cuisine she became known for back to its African roots.
Large, gay, Black, and Jewish — "four time blessed" as he told The Washington Post — Twitty continues to share his knowledge by traveling to numerous plantations across America to do cooking demonstrations and lecture about the surprisingly emotional and racist impact Southern food has had on American culture. Part memoir, part private investigation, and part history, The Cooking Gene travels hundreds of years through the South while tracing Twitty's own genealogy back to the African nation of Ghana.
In the book, Twitty writes that he once "hated soul food and I didn't really like being Black." As a teen, an uncle took him on a pilgrimage to Alabama, where he learned that Richard Henry Bellamy, a white captain in the army of the Confederate States of America, was his presumed great-great-great-grandfather. Numerous African-Americans today can say they are also descended from white slave owners, whether conceived through violent rape or secret affairs.
"I don't know how to feel about William," Twitty admits in the book. "Forty-six enslaved black people building, cooking, milking, digging, picking, gardening, raising his livestock, and waiting on his family hand and foot made [his success] possible."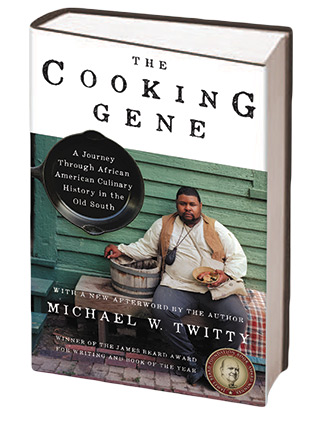 While readers travel with Twitty on a journey through his bloodline, the book is truly a historical account (peppered with recipes) about the healing power of Southern food. The writer goes a step further by sifting through stories, ancient recipes, historical documents, even Southern synagogues, to discover that the cuisine has always brought people together — even, at times, the enslaved and their oppressors. As Twitty documents, food has always been a balm that's healed the broken and comforted the weary in America.