As we sit in our small boat, headed to a snorkel at the magnificent Marietas Islands, Miguel explains the difference between Punta Mita and Punta de Mita. Miguel and his parents — and all of his ancestors before him as far back as he knows — grew up in a small fishing village on an island known as Punta Mita. They were mostly Mexican fishermen, though the Aztlan culture was there as early as 200 B.C.
Then in the 1990s, real estate developers worked with the Mexican government to buy Punta Mita, which is now the luxury Four Seasons resort (famed for its Jack Nicklaus-designed golf course, with a 19th hole that requires a boat to reach). The villagers were all moved off the island of Punta Mita, down a few miles from the northern tip of Bahía de Banderas to what was then dubbed Punta de Mita.
Ironically, the W Punta de Mita feels like the perfect antidote to the extreme gentrification that's happened in parts of Mexico. Less than an hour north of Puerto Vallarta, Punta de Mita feels a thousand miles away from their crowded beaches and Romantic Zone. With beautiful uncrowded beaches (I don't think I saw a single beach vendor), proximity to the bars and restaurants — and an easy trip to the bohemian surf village of Sayulita — Punta de Mita is emerging as a popular honeymoon locale for staright and LGBTQ couples.
That's in part because the Punta de Mita's W — a brand already popular among queer travelers — has a marketing director and a W insider guide who are both gay. Together, they speak from experience on what the area offers for LGBTQ travelers. But what the W offers here is an experience that feels intricately tied to the village Miguel's family grew up in. Located on Mexico's Riviera Nayarit, the W pays homage to the profound cultural history of the Indigenous Huichol peoples. As soon as you walk into the lobby, an incredibly vibrant walkway created from more than 700,000 blue mosaic tiles leads you down endless steps, bisecting a bar and eatery, continuing outdoors, then above the pool and seemingly straight to the ocean — a clear shot from the lobby.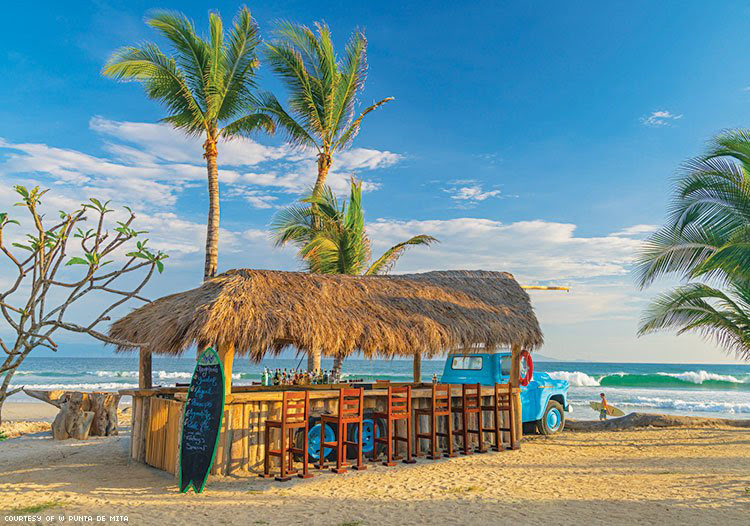 The amazingly intricate beadwork of the Huichol is incorporated into the design everywhere, and other elements (from the white sugar skull entryway to the Frida Kahlo and Pancho Villa pop art in the rooms) elevate the hotel to something you won't find in other resorts along the bay.
A quick 28-minute drive from Punta de Mita down the Carr. Federal la Cruz de Huanacaxtle highway offers pretty jungle views and you land at the beach village of Sayulita. In the small square, you can meet Huichol Indians working and selling wares. These artists who live 60 miles up in the Sierra Madre mountains still live off sales of their beadwork, which incorporates their socio-religious beliefs in Shamanism, Animism, Peyotism, and Catholicism as well as of pain relief cream they make from cannabis and peyote. Locals warned me not to try to get it into the U.S. but packed in my checked-in suitcase; it made it home without problems.
If you want to party, grab a Coco Loco (a full coconut with tequila or vodka and lime) and check out the locally owned boutiques. My favorite: Revolucion del Sueño, which sells contemporary products from local artists, like sugar skull storm trooper tees and rainbow-emblazed Frida pillows.
Of course, that's if you can draw yourself away from the W for a few hours, which we only did twice — once for Sayulita and again to snorkel the Marietas, a federally protected wildlife reserve and one of the only places on Earth where you can see a blue-footed booby. At the resort, the spa offers locally inspired treatments like a must-try tequila and agave facial and sweet cactus body wrap. The pool is luscious but the beach beckons even more, especially because the servers will bring you piña coladas just feet from the surf.
Inside the rooms, floor-to-ceiling windows bring in the ocean or the jungle, and nearly every single foot of the rooms are Instagram-worthy with funky Mexican pop art wall murals, headboards made from surfboards or hammered aluminum, rainbow-hued hanging chairs, freestanding oval tubs, and terraces with a daybed that easily fits two.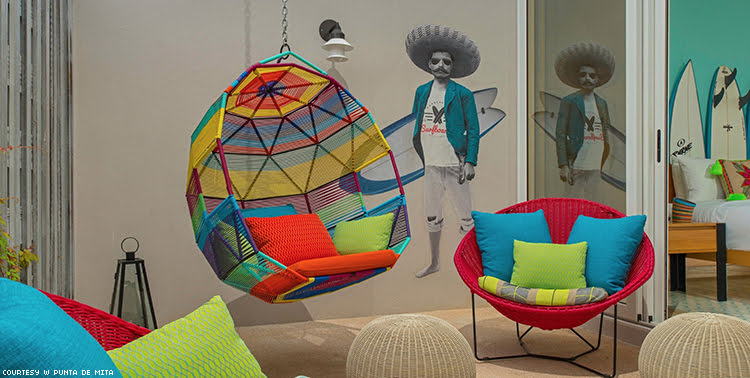 Five restaurants are on site, including the must-eat Spice Market offering a really exciting take on Thai, Vietnamese, and Malaysian street cuisine; the fun Chevycheria, a beachfront bar and made-to-order ceviche hut built into a 1950s Chevy truck; and Mesa 1, easily one of the most romantic meals here, as you literally dine in the middle of a lake. Mesa 1 is only accessible via stepping stones that emerge from the water then disappear once you've taken your seats at the massive Parota tree trunk dining table.
Trust me, you don't have to venture far to have water adventures. Punta de Mita is the closest town to the Marietas Islands, so taking a catamaran out to see this protected ecosystem is worth a few hours. You can't reach it by land. Kayaking through the rocky archways and caverns is a treat, but snorkeling or scuba diving is even better since it's teeming with hundreds of species of colorful fish, sea turtles, giant manta rays, and of course, along the way, leaping dolphins.
You can also stop at Majuhuitas Beach, one of the most secluded beaches in Mexico. Back at the W, you can rent paddle boards, kayaks, snorkel equipment, surfboards, and boogie boards (if you're traveling with kids, the latter are especially important).
During migration season, viewing humpback whales is a must-see. Witnessing a 50-ton mammal playfully rising above the water again and again 100 yards away was life-changing.
But again, a weekend in Punta de Mita felt that way often, a rarity in our modern world of crowded Americanized resorts and obnoxious, selfie-taking tourists.