UNIverse Creative is an open, visual dialogue that champions diversity, originality, creativity, and individuality by the art collective duo known as BoogieRez currently on display at the Palmer Gallery at Vassar College. The artistic collaborators and couple are known individually as Rez Ones and Boogie (nee T.C. Weaver and Risa Tochigi).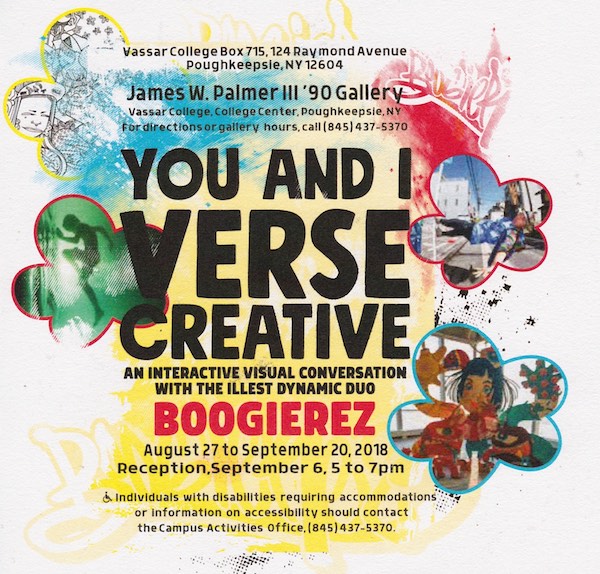 Says Rez,"We wanted to create a space where people can be a part of the experience, say 'I was here,' leave your mark — it's something we've always wanted to do and has been in our heads for quite some time. At some point we want to have the show on a larger scale, with more interactivity."
Above: From UNIverse Creative at Vassar
Boogie adds, "When I was younger I always had problems connecting with people through verbal conversation, so art became my voice. This allowed me to connect to people in a way that didn't exist before."  Boogie also feels that art helps keep peoples' imagination and creativity alive. "In this digital age of instant everything, it's important to actually create something with your hands that has weight, texture, and occupies physical space. Creating something from nothing and pushing your creativity further and further is what this show is about."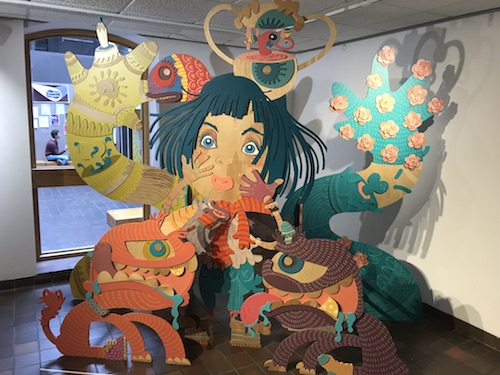 Above: From UNIverse Creative at Vassar
Teresa Quinn and Monica Church of Vassar College saw the opportunity to do something fun with the Palmer Gallery, so UNIverse Creative, "went from being an idea that existed in our heads to something that the public can not only view but experience and be a part of." 
Rez and Boogie have always been very community conscious — their art is in people's daily lives in Brooklyn, the Bronx, and the City of Poughkeepsie, where they hang their hats. "Impact, inspire, and empower — these are three words that should hold tremendous importance in everyone's lives," say Rez. They firmly believe that finding things that impact your own life positively will also positively impact the world around you.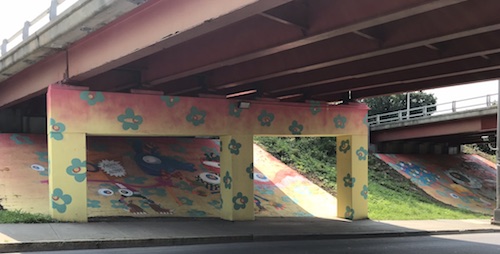 Above: Boogie's Poughkeepsie Gateway Project Mural
Rez and Boogie met via a mutual friend (Rez's homie, Rob) who Rez used to tutor in graphic design back in the day. Sometimes when Rob came through the studio, Boogie's sister would be with him. They would always tell Rez that he should meet her sister Boogie and how dope of an artist she is, but she was never with them. It became a running joke that Boogie was like Mr. Snuffleupagus  — Big Bird's friend from Sesame Street that only he could see.
About three years later, Rob showed up to Rez's dance practice at Vassar — this time with Boogie — and she told Rez she wanted to learn how to break dance. Boogie started coming to the practices on a regular basis and not long into her attending the sessions, Boogie mentioned that she wanted to get into graphic design. "So she came to the crib after practice one day, and I began to tutor her in graphic design as well. One thing led to another and here we are, like, 10 years later."
Boogie chuckles recalling those days, "I still get butterflies in my tummy thinking of the day I met T.C. [Rez] at Vassar in the Villard room rocking out. When I was 16, I imagined meeting a dude who was a b-boy, full of life, creative, with dreads and booties, and it totally happened!"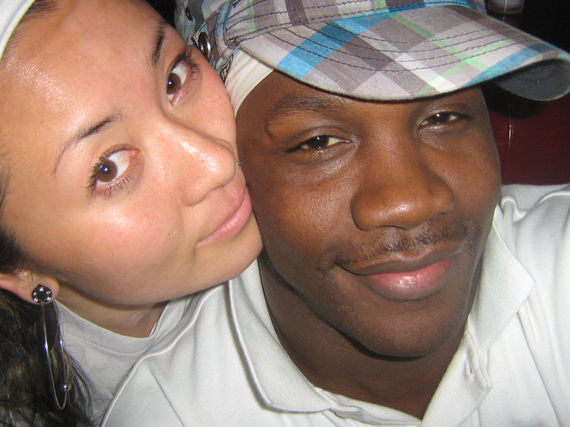 Photo above: Boogie (Left) and Rez
Comics, hip-hop, and skate culture are all recurring themes in their work to which Rez responds, "First off, sci-fi, anime, martial arts, and comic books are the connecting elements of hip-hop. If you watch any documentary on the culture and the person is like over 25, you will see one or all of those things in the background... These are all elements we both grew up with. So they're common threads for us. Skate culture has a lot of overlap with hip-hop, so you may be seeing things that appear in both spaces and just attributing them to skate life! I love action and movement and I do my best to integrate that into pretty much everything."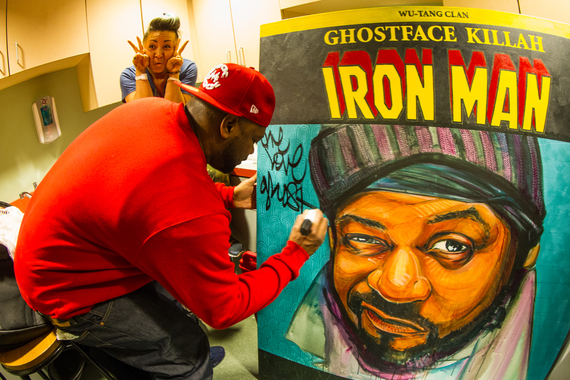 Photo above: Ghost signing Ghost
You can follow Boogie and Rez on Instagram: @riiisaboogie @rezones