Named for the oak trees on the grassy plain, Oakland, Calif., is more than its foggy mornings and sunny afternoons. Founded in 1873 on the east side of the San Francisco Bay, Oakland boasts a mild, Mediterranean-type climate with warm sunny summers and cool winters. It's also one of the birthplaces of West coast rap, with both the hyphy scene and ratchet movement taking root there.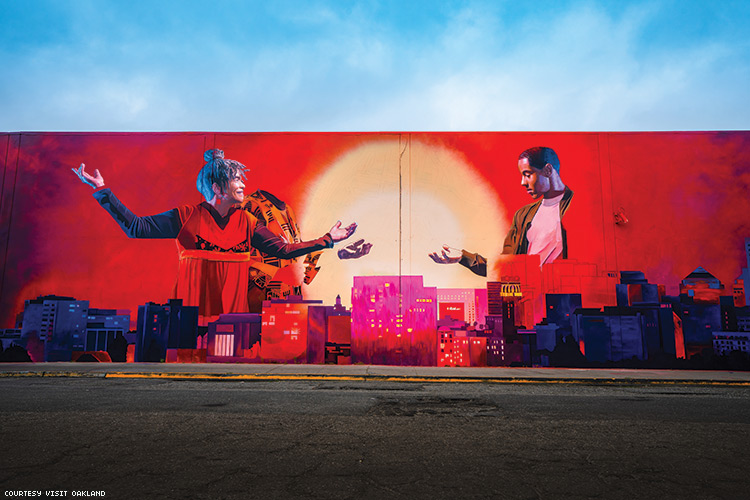 Above: Murals are a sign of the city's vibrant street art scene that includes a Mural Festival.
A blend of cultures, Oakland is one of the most ethnically diverse major cities in the country. It became home to refugees from the 1906 San Francisco earthquake and fire. Many African-Americans also made Oakland home during  the Great Migration (around World War II), as they gained high-paying jobs in ports and the defense industry. Some of the sickest musicians and performers are either Oakland-born and bred, or lived there for formative periods including Tupac Shakur, Kehlani, Too Short, Zendaya, and actors Daveed Diggs (Black-ish), Shemar Moore (S.W.A.T.) and Mahershala Ali (who's killing it in Green Book right now).
Only 12 minutes from San Francisco on the east side of the nearly 8-mile-long Bay Bridge, Oakland has a unique energy and appeal. The city is home to many attractions, such as Jack London Square, which has a statue of the Call of the Wild writer, who frequented the area. Nearby, Old Oakland features restored Victorian architecture and not-so-bougie boutiques. Close to Chinatown, the Oakland Museum of California (museumca.org) covers state history, nature, and art. Travel uptown and you'll see the art deco Fox and Paramount theaters, restaurants, bars, and galleries.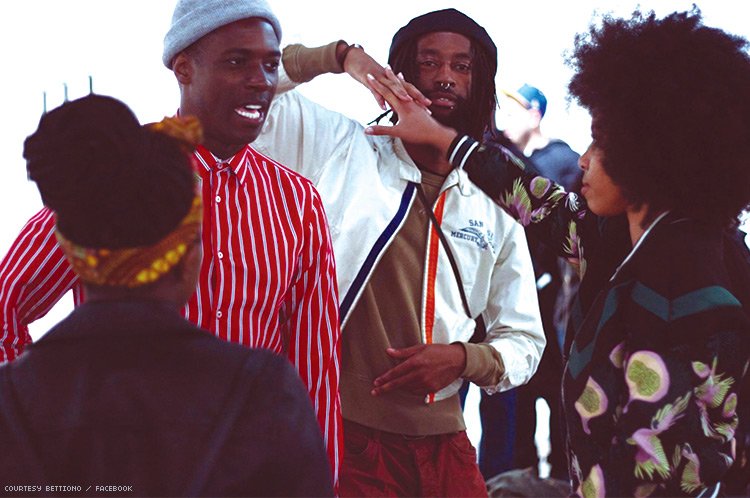 Above: Betti Ono for the opening of photographer Kierra Johnson's SIGNIFY
The Black arts scene has always been major in Oakland, too, including both homegrown talent and national and international performers who appear in venues around town. The city is full of amazing art exhibits and hybrid galleries that double as retail popups, barbershops, or bars like Betti Ono (bettiono.com). Located in the Black Arts Movement and Business District, Betti Ono is an experimentally-minded space for art, culture, and community. Dedicated to amplifying the work and voices of under-represented artists, this gallery values art-making as a form and function of activism, self-determination, community transformation, and cultural resilience.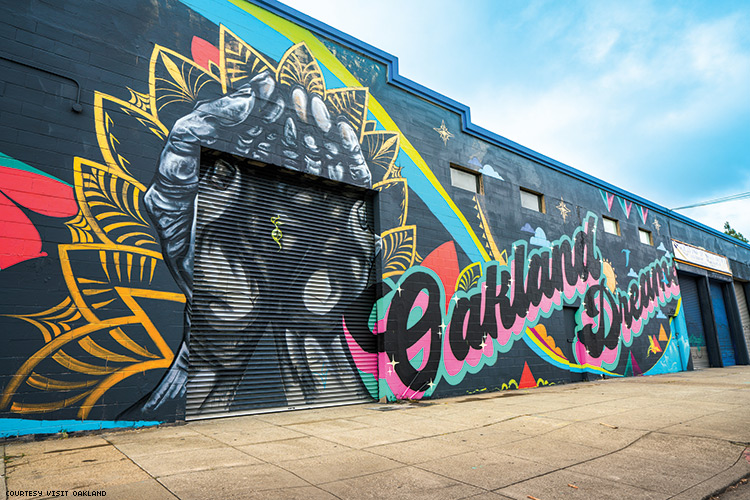 Even the streets of Oakland, with colorful graffitti and gorgeous murals, reflect the city's diversity and wealth of local talent, creativity, and innovation. Oakland's First Fridays, an immersive art and culture experience where street performers meet DJs, dancers, and chefs, gives a home to underrepresented artists from around the city.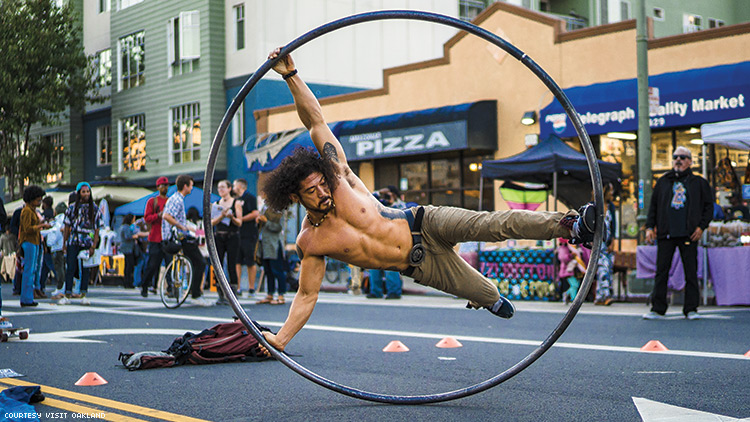 Above: Oakland's First Fridays performer.
The city offers a cutting-edge art and music scene, hip international dining experiences, and world-class sports teams. And, if there's one thing to know about O-Town, it's that they love their sports teams.
Sports lovers, take the Oracle Arena Public Tour (oraclearena.com/tours). Fans can discover the home of Golden State Warriors legends Stephen Curry, Draymond Green, Kevin Durant, and other athletic stars. Walk the same path as the players take to enter the court on game day, take a photo outside the Warriors locker room, and a peek inside the visitor's locker room. Or, for even more of an experience, view the arena from a lavish theater box and get inside a luxury suite.
Another must for sport enthusiasts is the Oakland-Alameda County Coliseum Public Tour (coliseum.com) through the home of two pro sports teams — Oakland Raiders and the Oakland Athletics. Fans can explore the stadium and walk in the footsteps of sports greats on the field, in the Raiders' locker room, or to A's dugout.
But no trip to Oakland is complete without tasting a little local flavor. Like everything else in the city, the wine scene is a little different than in other towns. Oakland's urban wineries may be housed in renovated warehouses, but the wine's quality certainly hasn't suffered. Being so close to California's wine country doesn't hurt either as grapes are sourced from all over the state. Head out on Oakland's Urban Wine Trail, stopping along the way to shop, eat, and explore all that the city has to offer. Most of the trail is walkable, and easily accessible by the ferry, BART (the Bay's rail and subway system), the free Broadway shuttle, and Amtrak.
On the Oakland Ale Trail, learn about the many local breweries and other craft beer destinations. Rooted in the spirit of the city's earliest manufacturers, the new breed of artisanal brewers is developing unusual flavor and style combinations. Explore the 12 tasting rooms of the city's breweries, all offering a unique drinking experience.
But with great drinks comes great food, and Oakland has a flavor for all tastes. For relaxed street fare, stop by Bakesale Betty (bakesalebetty.com). With its rustic outdoor seating on the tree-lined avenue, this gem offers the best fried chicken sandwiches packed with homemade spicy coleslaw, and tasty baked goods. Hurry over before they sell out for the day.
If it's a sports bar scene you're looking for, hit up Mad Oak Bar 'n' Yard (madoakbar.com). With its cool outdoor patio and rooftop deck, the neighborhood tavern offers 40 beers on draft as well as a full bar with a rotating pop-up kitchen with food for every mood. Similarly, the hot spot plays music from rock and hip-hop, to country and reggae. No matter what you're feeling, Mad Oak makes it happen.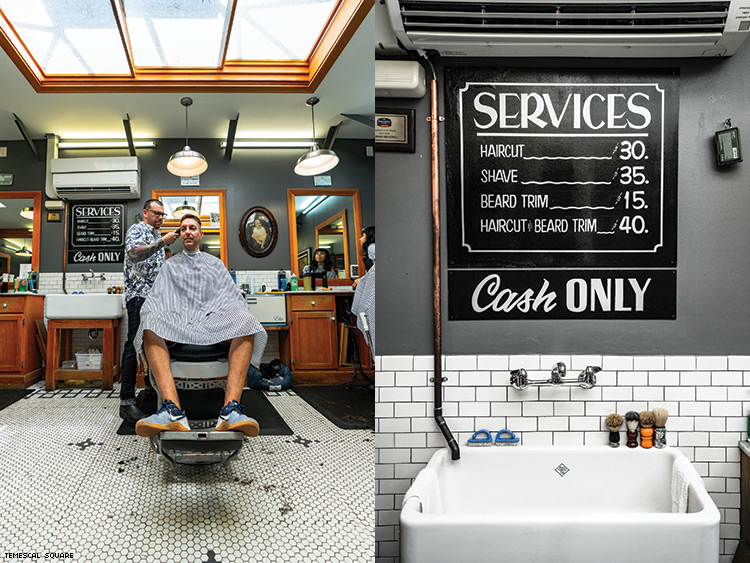 Above: Inside the retro cool Temescal Alley Barber Shop
For an authentic Oakland experience, stop in to Chop Bar (oaklandchopbar.com). According to its website, "A chop bar, in West African parlance, is a roadside bar/restaurant that also serves as a gathering place for the community." This one offers a wide range of menu options, including a half-dozen Northern California wines by the glass and carafe that are bought by the keg from the wineries and served through a tap system that keeps them fresh and affordable. Open for breakfast, lunch, and dinner, brunch and everything in between, you'll always find something at Chop Bar.
And when it's time to recharge, do it in one of Oakland's beautiful hotels. The Waterfront Hotel, minutes away from all the happenings of the city, creates an experience with modern nautical charm, cozy fireplaces, and bayside balcony views. From sun up to sundown, the Waterfront is itself a destination.
From sports to arts to dining and more, the city of Oakland is thriving and a buzz with creativity and innovation. If you want to get up, get up with Oaktown.