If you've never been surfing it's difficult to verbalize the transcendent experience it is — the remarkable sensation of the suspension of time— it's real life magic.
Director Tony Liuzzi manages to capture that magic however in his new documentary film Shorebreak.  Shorebreak is specifically about the skim boarding culture that emerged in Laguna Beach California in 1970s.  The history of the sport and of the convening cultural impact it had in America is fascinating from the foundations of the sport — that can be traced to the first time Captain James Cook arrives at the Hawaiian Islands and witnesses the indigenous marvel of wood they use to surf the currents.
Shorebreak as an oral and visual history of competitive skimboarders begins in earnest in the 1970s when it really took off and also reveals some fascinating anecdotes like Sports Illustrated's legendary 'Surf's Up' cover in 1987 actually features skimboarder Tom Trager — the sport is famous for looking "cooler" in photos than traditional surfing and ironically that iconic cover of SI seeking to cash in on the surfer craze depicts Trager skimboarding and never differentiates or mentions the sport in the article much to Trager's chagrin.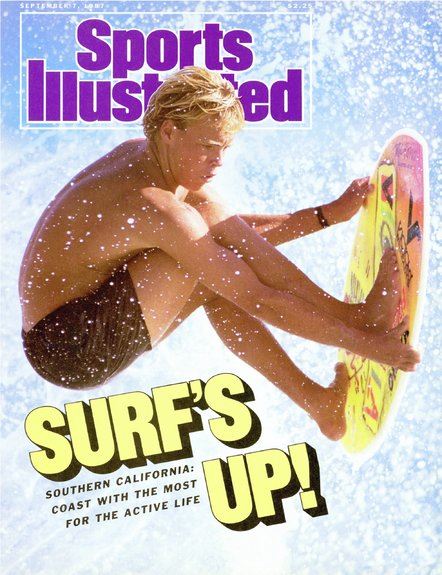 Sports Illustrated 'Surf's Up' cover from September 7, 1987
Liuzzi grew up in Orange County in southern California so growing up the entire board sports culture is the milieu he is part of. He recalls magic moments at surf, skate, and body boarding contests, backyard shenanigans, and late night bon-fires were part of his daily routine.  Liuzzi's older brother taught him how to skate and surf when he was only five-years-old and his eye masterfully captures reverence he has for the sport and the culture.
Liuzzi's love of filmmaking began young—he caught the bug after his first audition and casting call at 4 years old—he ended up landing his first gig on the Family Network show called Small Talk; only to leave the show about a year later due to an arm injury.
Liuzzi blasted onto the scene in 2013 and announcing the pre-production of this film and faced skeptical headwinds from the community due to the fact that most projects in any sport usually are produced or made by and ex-professional or legend in the sport—like Stacy Peralta's many skate films of their Dogtown days and even his newest film entitled Bones Brigade.  Liuzzi was inspired by films like Momentum Generation made by the Zimbalist brothers with the help of legendary surf director Taylor Steel.
In the last few years Mr. Liuzzi has donated footage to international TV shows like The Domke Show and even been highlighted on the "2KOOKS" Instagram.  Liuzzi was one of the main cinematographers and managers of Joogsquad Youtube channel for over four years, under his best friends Jackson and Turner "Tfue" Tenney (Which has an astounding four million followers.)
The film has been recognized by skimming and skateboarding legends including Tony Hawk, Neil Blender, Brad Domke, the Bryan Brothers and many more. The Bryan Brothers were huge contributors to the film and also allowed for 25 never before seen clips to premiere in Shorebreak.  Liuzzi has been working on the film since 2013 and on shot on six continents as it sought to tell the story of the growth of a professional sport to a worldwide culture and phenomenon.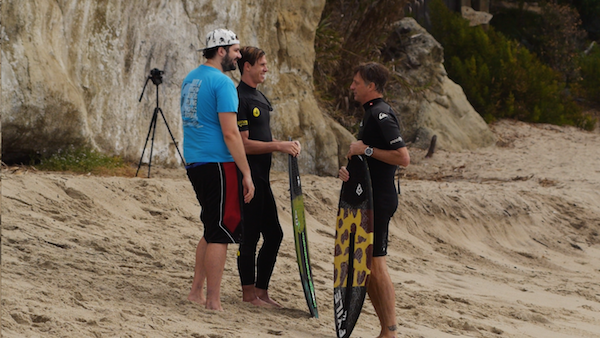 Liuzzi on set with legendary skater Tony Hawk.
Liuzzi graduated from Laguna Beach High in 2007.  He excelled in athletics and religious studies—which is apt as many consider the sport an almost religious experience.  After high school Liuzzi went on to Dominican University in San Rafael CA, Graduating in 2012 With an Interdisciplinary BA in English, Communications, and Human Cultures. It was there that Liuzzi perfected a love for film and communication with people. During his senior year at Dominican,  Liuzzi finished not only a 30 min senior thesis entitled The Undeclared but also finished 10 documentaries on an Internship for sustainability with the National Park service in relation to Dominican's ongoing sustainable efforts on and off campus.  Just weeks after graduation Liuzzi got a paid internship with Andy Wilson at Open Eye Productions and helped raise $50k and finalize his newest documentary. Andy Wilson was nominated for an Academy Award for Under Our Skin. 
Shorebreak has been showcased in the largest film markets in the world including A.F.M. and Cannes on Attribution. With the help of Little Studio Films this film is finally been given the Hollywood stage it always deserved and now is available for millions to view. Liuzzi is currently making two more feature films and also on the cusp of selling his first script. 
Liuzzi hopes to make films the rest of his life and continue to follow his two life mottos: Having fun and getting it done and The sky isn't the limit, waste of space.
Watch Shorebreak now on Amazon here!
Cover photo above: From Left to Right: Kyle Creager, Tony Liuzzi, Brad Domke, Sam Stinnett 
Taken at the World Premiere of Shorebreak at the Grove in Anaheim and two of the biggest stars in the sport world champion Sam Stinnett and XXL award winner Brad Domke.