The Los Angeles Lakers have a long history of signing the best players in the league from other teams, including this year's LeBron James, who joins a long list of dominant players traded to or signed with the Lakers in the prime of their careers.
Each of these stars were coming off stellar seasons but dissatisfied with their current teams — Wilt Chamberlain, Kareem Abdul-Jabbar, Shaquille O'Neal. (Chamberlain and O'Neal were multiple winners of the league's Most Valuable Player award with their former teams.) Furthermore, all of them would lead Los Angeles to victory in the NBA Finals. Their grand total for titles after joining the Lakers? Nine times. If history is any indicator of things to come, more titles are on the horizon for James in the famed purple and gold.
A History of the Lakers and Drafts
This trend started in 1968 when Wilt Chamberlain demanded a trade from the Philadelphia 76ers. Chamberlain, a seven-foot tall beast on the court, was a four-time MVP, including three straight honors, and his achievement of 100 points in a single game is still an NBA record.
When Chamberlain was traded to the Lakers, he was averaging 24.3 points and an unheard of 23.8 rebounds per game. But he was a temperamental giant with a horrible free throw, who argued with coaches and played defense only when he felt like it. Chamberlain was surrounded by future Hall of Fame scorers like Jerry West, Elgin Baylor, and Gail Goodrich, yet he never fully bought into letting others be the primary scorers. When Lakers coach Bill Sharman finally convinced Chamberlain to concentrate less on offense and more on defense the team reeled off a still-standing record of 33 straight wins. The Lakers won the Finals that year (their first since moving to Los Angeles from Minneapolis in 1960).
The next transplant to the Lakers was Kareem Abdul-Jabbar in 1975. Arguably, Abdul-Jabbar remains the best basketball player of all time, certainly at the high school and college level. Under his given name of Lew Alcindor, he won multiple titles at Power Memorial High School in New York, then led the UCLA Bruins to three straight NCAA titles. (Fun fact: He was so dominant that the NCAA outlawed the slam dunk.)
Showing true greatness in response, Abdul-Jabbar created the most unstoppable shot in the history of the game: the skyhook. What's more, the only reason he didn't win an Olympic gold medal in 1968 was because he sat out the Games to protest racial injustice back home.
In his second season with the Milwaukee Bucks, Abdul-Jabbar teamed with future Hall of Famer Oscar Robertson to lead the team to his first of six NBA titles. Unhappy after the "Big O" retired, Abdul-Jabbar asked for a trade. He was a three-time MVP when he came to the Lakers and would go on to win three more, including back-to-back honors in his second and third years with the team.
When Magic Johnson arrived in 1979, he and Abdul-Jabbar led the Lakers to an astounding eight of the next 10 finals, winning five. The last two wins were consecutive, a feat that had not been accomplished since the Boston Celtics did it 20 years earlier. Abdul-Jabbar retired as the all-time leader in points, field goals, defensive rebounds, and blocked shots among others. His 1985, 1987, and 1988 championship teams are considered by many to be among the best, if not the best, of all time.
The last truly dominant player to come to the Lakers in his prime was Shaquille O'Neal. He arrived as a free agent in 1996, the same year Kobe Bryant was drafted. O'Neal was a monster on the floor, proving unstoppable within five to 10 feet of the rim, leaving defense bruised and battered. When Phil Jackson arrived as coach in 1999, O'Neal and an emerging Bryant completely owned the league for three straight titles — a run matched only by those same Celtics from four decades earlier and not repeated since.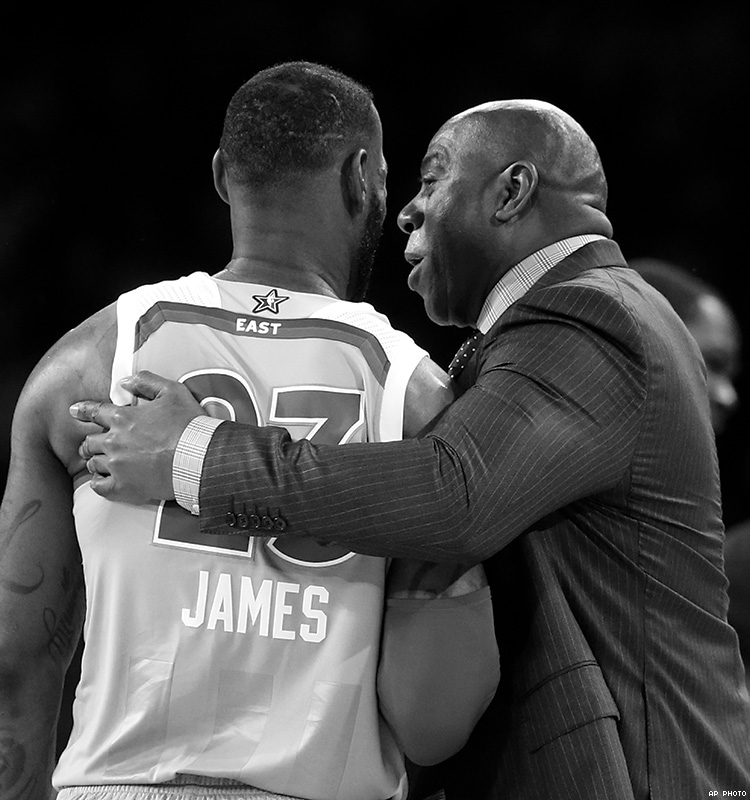 O'Neal won a league MVP and three Finals MVP awards during his stay with the Lakers. Frustratingly for fans (and to the relief of opposing players), his tenure with the Lakers was cut short due to the inability of Bryant and him to co-exist. Bryant was famed for his maniacal quest to be the greatest basketball player of all time. For him, there was no off-season, and he never stopped training or improving his game. Bryant was, perhaps, the most driven athlete ever to play the game. The same could not be said for O'Neal, who viewed his off-season as his own time. O'Neal believed he could play his way into shape during the regular season, which he did, but it drove Bryant crazy even so. Things came to a head during the 2004 season when the Lakers lost the Finals to the Detroit Pistons four games to one. O'Neal asked for and was granted a trade. In 2017, the Lakers improved to 35 wins, which topped their low-20s win average from previous years. But considering the 82 games they played, it was still a losing season.
Now here comes LeBron James. Having played in the Eastern Conference the entirety of his career, extending his streak of consecutive NBA Finals in the Western Conference might be difficult, if not impossible. Regardless of further changes to the roster or James's style of play, expectations are still high. The L.A. Lakers are about one thing and one thing only: winning championships. A second-place finish is considered a losing season in La-La Land.
While management and fans may be willing to wait another year to contend for a title, major grumblings will follow if the team is not in the playoffs this season. Laker greats — Johnson, Abdul-Jabbar, Bryant, and "Big Game" James Worthy — all remain connected to the team. Nothing will compare to having all those Hall of Famers and championship banners hanging overhead to remind James what is expected of him. But that's also a reason he chose to sign to the Lakers — to be tested and challenged.
If LeBron James wins a championship for the greatest basketball franchise of the last 50 years, he might just be crowned the greatest basketball player of all time. No matter what happens, the Lakers and LeBron are set for an exciting four years. Let the show begin.