Derek Partee, who is Black, said three white people angrily approached him at a Charlotte, NC polling place.
Partee posted photos of the three on Facebook, including a photo in which one heavily tattooed man can be seen openly carrying a pistol in a hip holster. 
"Down here in Steele Creek working the polls just threatened by two white males in(and) a white female who called me a N***a, Black piece of s*** and he exposed his weapon," Partee wrote on Facebook, but using uncensored language. "I had to back off and call CMPD, folks are getting bold and forward in the time."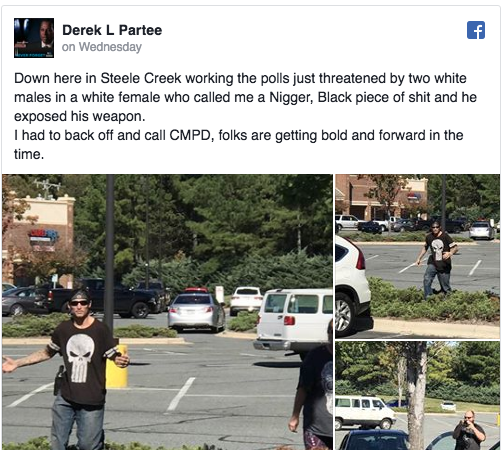 A 28-year-old Charlotte man named Jason Donald Wayne was arrested in connection with the incident.
Wayne was charged with ethnic intimidation, communicating threats, disorderly conduct and going armed to the terror of the public, according to local jail records. Reports of early voter suppression are rampant across the country particularly in the governors race in Georgia.
Officers determined that the gun Wayne was flashing was actually a BB gun.
Partee is the vice-chairman of the GOP group in his congressional district, and is looking to unseat the Democratic incumbent.