Tree Alexander says he comes face to face with gratitude every morning when his soap shop Zambo Aroma (ZamboLLC.com) opens for business. The 31-year-old activist and entrepreneur founded the Bronx, New York-based store not only to provide skincare products, but as a place to offer self-care, self-nurture, and self-respect for others. All this coming from a guy who was once experiencing homelessness on the subway platforms of New York City.
Growing up on the south side of Chicago, Alexander says his education about HIV was minimal.
"It was like a TV thing, not in real life," he says. But after he came out as sexually fluid to his family and moved in with a boyfriend at 17, HIV became very real. A year later, his boyfriend became ill, but resisted seeing a doctor.
"He kept pushing it off until one day he couldn't get up to move," Alexander remembers. "I called the ambulance and they came out and connected him to every machine imaginable. They said if I hadn't called 911, he wouldn't have made it through the night."
The next morning, a doctor told them his boyfriend had stage three HIV (or AIDS) with only four T cells left in his body. That's when Alexander's boyfriend turned to him and said, "I'm sorry I didn't tell you."
"I went across the street and got tested at the clinic," Alexander says. This was before rapid testing was available, so he had to wait two weeks for results, which eventually came back positive. At first, he didn't tell his family.
"I didn't want to be the first to come out sexually fluid with my family and then be the first one to be openly diagnosed with HIV in my family," he recalls. "I think that was just too much for them to handle, especially since everyone wanted to look at me all sad and, you know, give me hugs and cry around me... I can't do that emotionally. So literally, [I] just ran away and moved to New York and became homeless."
His boyfriend was already showing visible improvement from the meds he was given at the hospital. But Alexander was refused treatment. At the time, only those whose T cells were under 500 were given medicine. He didn't qualify.
"So I found a research study in New York that was able to start [me] on early intervention medication, which prompted me to move," he says. He had started his soap business, but gave it up and used that money to move to N.Y.C. When he landed in the Big Apple, he had a mission but no money.
"I slept on the trains and the parks for about three months, before I was able to get into a youth shelter" he recalls. The shelter ended up being a nunnery in the West Village.
"I lived with the nuns, so it was a very strict schedule and I stayed there with them for two months while volunteering at Housing Works."
Alexander ended up with a job as a care coordinator at Housing Works, a non-profit that fights HIV and homelessness. He later joined the Brooklyn AIDS Task Force (now called Bridging Access to Care) as a coordinator and social change activist.
He also became a public speaker, appearing on Logo TV and at speaking engagements as far away as the Virgin Islands, talking about living with HIV. "I am the change I wish to see," he said in one speech. "If we continue to conceal and fear this disease, we shall never overcome."
Alexander admits, "I really loved advocacy work and highlighting the fact that people with HIV have normal lives and normal concerns, stresses — and those major things, like housing and proper nutrition, was just as important as the medication."
The young activist had moved up into doing group facilitation and counseling, and running an empowerment group for young men of color. But working with youth may have helped his next journey in life: "I wanted to have a family of my own and so I went through the entire process to adopt children. In the last three and a half years, I've adopted four kids."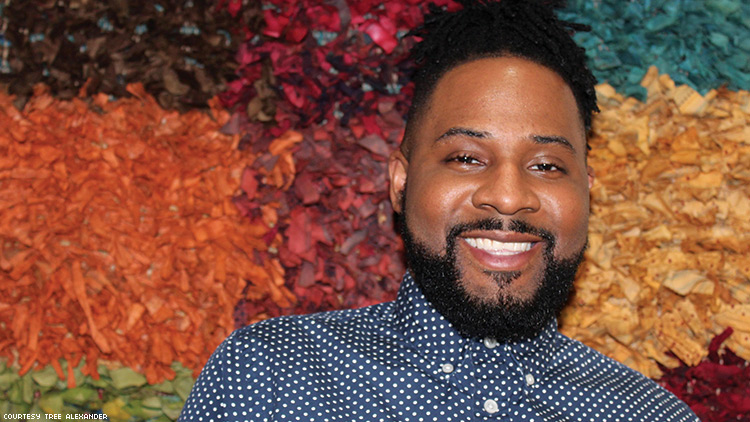 Above: Tree Alexander
In order to be a good dad, Alexander has stayed adherent to his medication, something he says he's done from day one. He was undetectable a month after he started treatment, and his T cells rebounded eventually. The activist turned entrepreneur says he did well on the same HIV treatment cocktail for nine years — until like many long-term survivors, he started to battle resistance and kidney issues. (Kidney disease is prevalent among people with HIV, and a handful of diseases can attack the tiny blood vessels in the kidneys, notably HIV-associated nephropathy, which is caused by HIV infection of the kidneys.)
Fortunately, one simple switch in meds made all the difference for Alexander. "Once my doctor changed my medicine, that was it," he says now. "I've only had two different regimens… in the 12 years I've been positive."
Alexander also rebuilt his soap business — in part because of his children. "The little ones had eczema and skin issues, and the medications that they were giving us just had too much stuff in them," he explains. "So I went back to making [soap] just for us in the house, and then friends wanted some, and family wanted me to send them some."
Before he even realized it, he had built "a business all over again."
Now, Zambo Aroma offers a variety of handmade specialties, including herb-infused soaps, lotions, body butters, and bath bombs. Of course, Zambo is more than just a soap store.
Alexander says the "goal and mission of my soap company is to mix art and education with health. Our mission is to treat yourself… being mindful of what you eat, being mindful of what you put in your body, so that you have less health issues in your future. And we do meditation, we do yoga, and we also have massage therapy happening in the space, as well as art therapy."
The store partners with a local mental health clinic. "The goal is to make people in our community know that your health starts with you. Even when I did the life coaching and counseling, and even patient navigating, I [emphasized] that you are part of the treatment plan. So if you don't know what's happening with your body, you can't understand or be in tune
with the changes that happen in your body."
He says the key is consistency, too, something he tells those who are newly diagnosed HIV-positive.
"You want to get up every day," he says. "You want to work. You want to have a healthy life and just take the medicine — not like, force it down your throat but, you know, after a little while it becomes a part of the life. It becomes a part of the schedule and now that I am a parent, and we have five dogs and a cat, taking my medicine is just as normal as giving the kids vitamins at night."
Today, he admits, "my life is absolutely beautiful and most of the time, when people ask me about my HIV status, it's not something that depresses me. Only because I know that had I not been positive, I wouldn't have moved to New York and I wouldn't have made the connections that I have, or adopted my kids that I have. So you know, everything that's happening that's absolutely wonderful in my life is a credit to the stresses and the struggles that I've been through in the past. It's amazing."