A long-held tradition of crossing over from stage to screen is embedded in the hearts of many young actors of color, yet very few manage it successfully. In an age where instant gratification dominates consumerism, the need to stay relevant has never been greater. For Taye Diggs, it's a journey he's always welcomed but is still anxious to confront.
It's been 20 years since Diggs shot to international fame after a sexy starring role opposite Angela Bassett (and Whoopi Goldberg) in How Stella Got Her Groove Back. His appeal captured the hearts of women and men, helping him to push through barriers with more challenging characters on stage, film, and TV.
Diggs knows how to hustle. Since the early-1990s, he's constantly proven himself to be one of the most versatile performers of his generation. After starring in the original cast of Rent on Broadway in 1996, the well-rounded actor landed a slew of memorable roles, from his NAACP Image Award-winning role on ABC's Private Practice, to recurring roles on The Good Wife, Murder in the First, and Empire. He even voiced a humanoid alley cat in My Little Pony: The Movie.
His newest gig has him hosting the streaming show Crossovers on Stage Network (thestagenetwork.com), a show mirroring Inside the Actor's Studio with James Lipton. Set in front of a live studio audience, Crossovers features Diggs interviewing actors who've crossed from stage to screen or vice versa.
As it becomes evident that Hollywood is entering a new frontier where people of color are beginning to have a place at the table to tell their own stories on screen, with the transition, a new lineage of Black legends are also emerging. They stand on the shoulders of giants like Sidney Poitier, Harry Belafonte, and James Earl Jones, all who famously lept through racist hoops, working twice as hard for fewer roles to achieve equal places in Broadway and cinematic history.
Without a doubt, Diggs has a place at the highest pinnacle and many young performers grew up looking to him as a role model. But the transition from newcomer to legend isn't an easy one for many actors.
Sitting face-to-face in a private Times Square office in New York City, Diggs offers an introspective look at his life and career. His boyish smile is still bright, attached to a more muscular body than his famous lean chisel in Stella. He speaks softly with words affirming the many lessons he's learned of the business — the highs, the lows, and managing to rise from the ashes.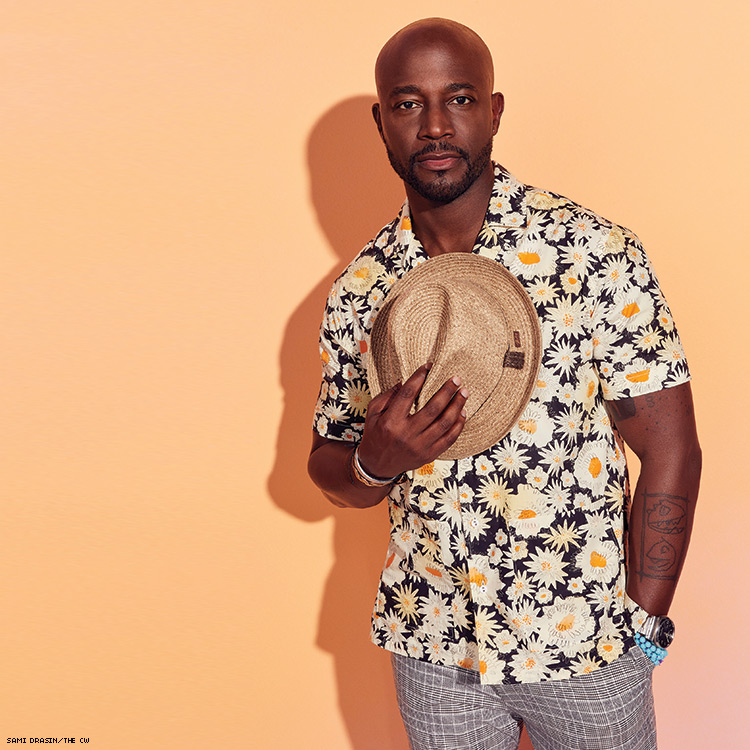 Hats off: Diggs, a stage, film, and TV actor, has paved the way for many of today's young Black performers. Now he's a dad on the CW's All American.
Still, he manages to have a sense of humor when sharing the moment a young actor recently told him he was up for a role described as a "Taye Diggs type."
"It's surreal," he says, pondering. "Oh, shit. OK, I'm a type now?" It wasn't the first time he's heard that, and while he admits it used to annoy him, now he says he embraces it wholeheartedly. After all, he's worked his ass off to be a "type."
Diggs's fresh attitude is evident in his new role as Billy Baker in The CW's All American, premiering in October. In the series, he plays a former football star who gets injured in the pros and finds himself coaching young stargazers at Beverly Hills High School.
"We're dealing with a lot of social issues and identity issues, and obviously the soap opera madness that happens in every high school," he explains. Of his newfound type, he shrugs, "I'm the coach and a father with two teenage kids. There's no getting around it: I'm an older dude, you know what I mean?"
In this fall's film River Runs Red, Diggs again plays a father, one whose son is killed by two police officers who go unpunished — until Diggs takes the law into his own hands.
Back in 2015, Diggs starred as the titular character in Hedwig and the Angry Inch, the only Black man to ever take the role on Broadway. Now he's eager to leverage what he's learned about the craft, the business, and everything in between to teach young artists on Stage's Crossovers. 
"It's great to have the opportunity," he says of inspiring young people. "If you allow yourself to honor the gifts you've been given, good things will happen."
It is a lesson he learned later in life. As a child, Diggs dreamed of the career he has today in "very broad strokes." He had "a rocky start: poor, wrong side of the tracks, ghetto," but remembers the trajectory happening fairly easily. That is, until life forced him to "grow up." He remembers, "I wanted to be famous. I wanted to be a movie star. I wanted to be on Broadway. All that stuff happened, but I did not realize life: getting a divorce, breaking up with a girlfriend, having two kids that weren't mine. All of that. I was like, Wait a minute. This isn't on the pamphlet."
These days, he's struggling to find new ways of evolving inside an industry that's constantly changing the rules, but he's still optimistic. "I feel now is one of the best times ever because people have the ability to post a video or tweet or put something on Instagram. People have that."
With the box office successes of Get Out, Black Panther, and BlacKkKlansman, young artists of color are finally depicting more authentic images of themselves — a far leap from where the world was when he was starting in the industry.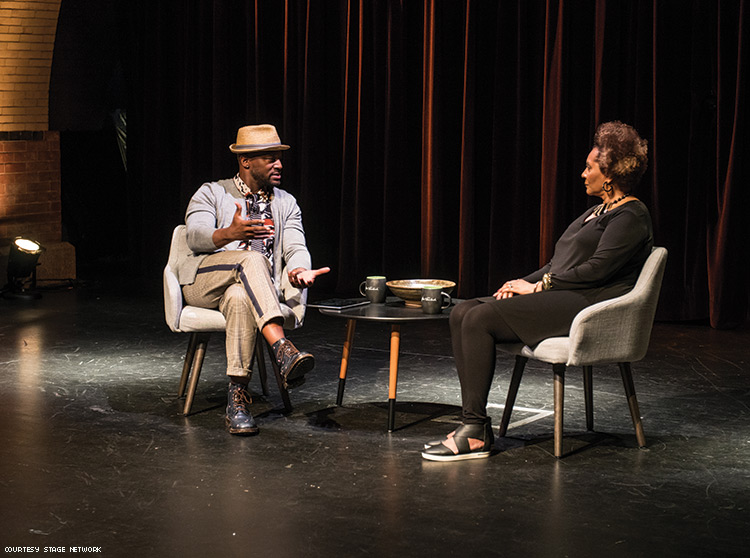 Taye Diggs talks to Crossovers guest, beloved actress Leslie Uggams.
"These young people, it's a different world for them," he explains. "I can't expect them to truly understand what it was like for me, because they don't have those issues. I have no idea what the future's going to be like for them, but I know it's going to be different than what I grew up with. And a lot of that I think is positive."
His 9-year-old-son, Walker, is a perfect example of what the future looks like.
"He doesn't have to look at his classroom and know he's the only one that looks like him," Diggs explains, comparing Walker's experience to his own early development. "He's not going to grow up with people saying, 'You talk white.' He's just not going to have to deal with that, so that is very interesting to me. And it's such a big part of who I am. It shaped who I am."
In fact, Diggs pulled from those early years to write the successful children's books Chocolate Me!, Mixed Me!, and I Love You More Than…, the latter which was just released this September. Inspired by his son, Diggs wrote the series of books as way to tell Walker he didn't have to explain himself to anyone. With illustrations by Shane W. Evans, the series aims to empower young kids of color by displaying how amazing they are inside and out. Clearly, it's also a testament to how art can change culture.