The first thing that comes to mind when running into hip-hop entrepreneur Tito Montana on the streets of Poughkeepsie, New York — a town we both hail from — are questions about his frequent world travels, which he documents on social media. Seeing pics of Montana in different countries, like Zanzibar, has an impact on me. The two of us have come a long way since those years we both were in lockup.
Montana and I met when we were inmates in 2006, housed in the same unit at the Dutchess County Jail. Our first interaction was bonding over one of my favorite Jay-Z verses in the song "Why We Die," off of Busta Rhymes's Anarchy EP. We met up again in 2008 when I got out of the box at the Mohawk Correctional Facility in Rome, N.Y., where we were both incarcerated on drug charges.
Montana says the productive and hectic pace of his schedule — which involves juggling his music career, family life, and traveling — stems from his time in prison.
"What you see with me is actually the manifestation of my thoughts while I was incarcerated," he says. "It's why everything I do now I intend to be impactful — that's my sole purpose. I wanted to be a better father, so while I was [in prison] I took parenting classes. I didn't look at it like, 'Yeah, I'll get there when I get there,' knowing in the meantime, I want to be a better father. I've done things from jail that still had me active. I did homework over the phone — as opposed to just calling my baby's mom or a girl and just try to shoot the shit. It was like I was actively planning what I needed to do when I got out, and I'm still striving to be a better father. I just want to be better a man."
Before we met, Montana was making money on the streets. He says he spent it on "buying $2,000 outfits head to toe. Shoes, jacket, jeans, and kicks. All that just to go and impress people." Still, Montana began making moves and when the opportunity came (and the money was there), he took a trip.
"To me, there's no other form of really experiencing the world like travel," he says. "Most of the kids we came up with, they don't know anything but the public housing we grew up in. People can buy material things all day. You can buy a car. You can buy 20 cars. You can buy a bigger car. But that car is only going to get you to where you are going, and if you have a limited scope of the world, then that's nowhere."
But that's not saying Montana doesn't like nice things, too. During the time since leaving prison, he's realized the "true impact and the true leverage in life is to be able to venture out and be an explorer… I'm not the first person to visit those places, but from the community of people who I came up with who never venture out, I am the first."
He adds, "I'd rather be the first at something like that than [do] the same thing over and over and hoping it gets me somewhere — like buying Jordans. I had the hook up back in the day, so I used to have the newest Jordans way before they came out. That was exclusive to me. I don't have that hook up no more. I don't have the desire for Jordans, because what does it look like [if] I'm just getting them when everybody got 'em the same day? I even tell my own son that. I'm like, 'Listen, the key to buying Jordans is don't wear them when you buy them. Wear them when they're old.'"
Montana admits he owes his trip to Zanzibar to his best friend from high school — the now-famous chef Roblé Ali. And he's not through: "My traveling goal right now is all seven continents. I got four. I need three more then I'm good."
Things really popped off for Montana last year when he dropped his Dave East collaboration, "Must Be Crazy." While the powerful song stands alone, it exploded when combined with the animated music video. That really got the ball rolling in earnest for this lover of amazingly told stories. Hype Beast's Jerry Doby said of the video, "'Must Be Crazy' could be considered a no-holds-barred criticism of, well… criticizing the wrong *ish. I'd venture to say this was one of the more in-your-face videos of 2017." Dick Gregory, an idol of Montana's, also appears as a caricature in the video.
Montana's lifelong dream of being in music was realized while serving his time in prison. He wanted to make a transition and not leave incarceration to end up back on the streets. After going through A&R at a bunch of big labels, he ended up deciding to go independent with Final Score Entertainment. For the artist, the pro of being an independent artist is the freedom. The con is having to figure out the finances to do it.
"The reason why I can make the music that I make is 'cause I don't have a boss, I don't have to answer to nobody," he proclaims. "What a lot of people don't know about me is I get the times that I'm in. I'm not one of those people that's slow. But my music is my legacy. It's what I'm leaving behind, so my music reflects that — what I want my kids to look up to. I don't use drugs. I can't rap about lean [aka codeine cough syrup]. I came up in an era where taking a picture with a gun was off limits. It was like, my principles and morals don't allow me to fully engage with the times, so I'm forced to just do it my way."
The creator finds the question of what he and his music are about to be vexing.
"I mean, that's a tough question," he says, "only because with music, each song is just a piece of who you are. So there's really no one song that can embody that. But if I had to take a record, I would take 'Must Be Crazy' minus the Dave East verse. And I would use that as my story as far as telling you who I am. You know I came up on the other side — dope fiends, homicides, I'm telling that story with that... That's just me venting on a record... What I'm doing musically is leaving my story behind."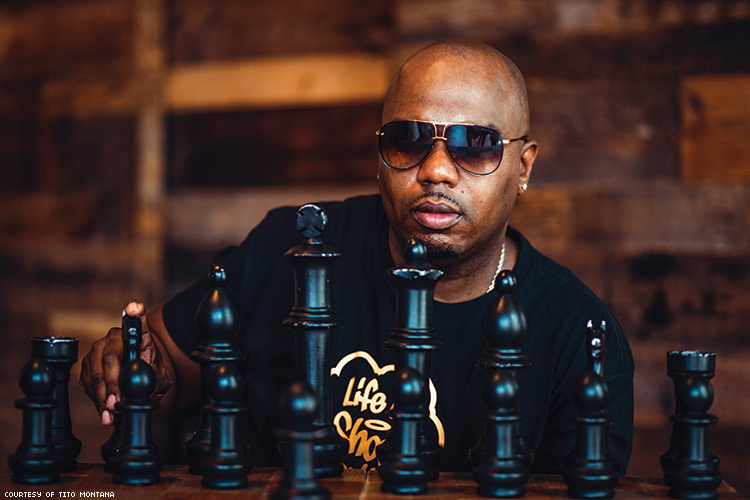 Montana's still reflecting on the death of Aaliyah, something that even years later still impacts his life.
"I was on a plane coming from Atlanta," he remembers. "She and I were flying at the same time, so I connected all that to my life, in that moment. And I remember when she passed, like, the pain. Two ways [pagers] was poppin'. I remember getting alerts. 'R&B singer,' they didn't say who it was at first. Then one of my boys hit me up from Connecticut, who was in Atlanta with me, he was like, 'Yo, Carl Thomas was just up here and he said Aaliyah died tonight in a plane crash.' And I just remember all the news coming in and they was like, 'Seven people died with her.' But we only knew Aaliyah, right? And at that moment I realized, I'm like, 'Damn, like nobody — like it didn't even matter.' Like those other people didn't even matter, but to me they mattered. Like, who were the seven people? It made me realize what was important to people. All these other people died, but all we know is Aaliyah."
That was when Montana says he fully realized the importance of leaving a legacy, whether it's big or small. He received another one of those ah-ha moments when his mother passed.
"I don't have videos of my mother for my kids. I don't have nothing to show them from that. My kids will be able to do that. My grandkids will have that. You see what I'm saying? And they will see their grandfather was striving for something — it'll be part of my legacy. That's what my music is for: me."
Rahman Moore is a New York-based independent filmmaker who writes about the intersections of politics and pop culture for The Good Men Project.