Spider-man's great popularity Stan Lee once boasted was that he could be anyone under that mask so every child could imagine themselves as the hero — an argument that took new life in recent years with the advent of the Miles Morales Spider-man character.
"What I like about the costume is that anybody reading Spider-Man in any part of the world can imagine that they themselves are under the costume. And that's a good thing." Lee said.
Lee passed away today at 95 years old and there will be many remembrances but his [and Marvel's] contribution to racial diversity is significant and worth noting.
Back in 2010, Lee supported actor Donald Glover's campaign to be the next Spider-Man in the movies, which sadly never happened but it was quite a game changer to have the only living father of Marvel Comics throw the gauntlet down in the favor of diversity. Glover is part of the inspiration for  Miles Morales, who is drawn based on the likeness of Glover and President Obama. Morales is described as an Afro-Latino teenager.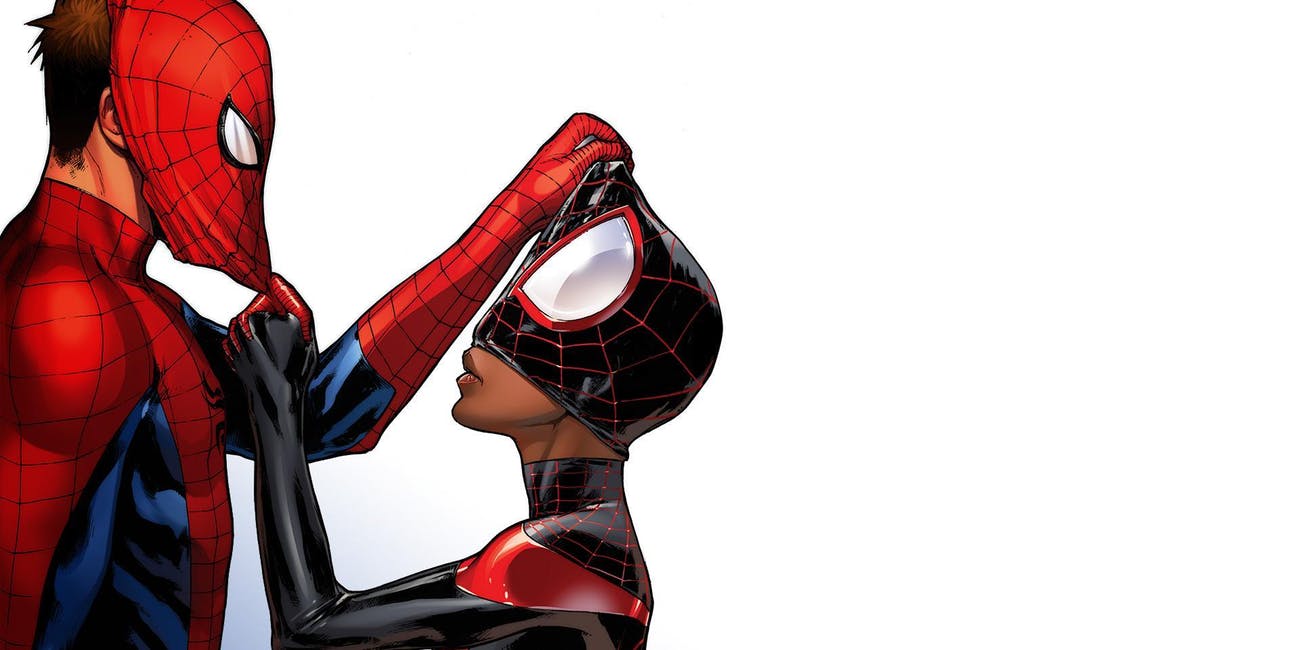 Above (Left to Right): Peter Parker and Miles Morales unmask one another.
The Morales Spider-Man storyline began as part of the Ultimate Marvel universe. Marvel has countless storylines, characters, and universes. And so, to streamline all of these elements, Marvel planned a large-scale reboot to begin in 2015, for the first time in around 75 years. Leading up to the reboot, we saw the Ultimate Marvel universe, where our favorite characters — Tony Stark, Bruce Banner, the X-Men, the Fantastic Four, and yes, Spider-Man — were re-imagined from the beginning of their origin story. To start the reboot, this universe and our existing one smash into each other, and, to put it simply, only the best versions of the characters survived. 
That included both an older Peter Parker and a teen age Mile Morales.
Lee was also half of the team that created Black Panther, the first Black superhero. In July 1966, we were introduced to King T'Challa of Wakanda within the glossy covers of Fantastic Four no. 52, Kirby and Lee, legends of hyperbole, introduced "The Sensational Black Panther!"
According to Marvel Comics: The Untold Story by Sean Howe, "A little more than three months after the debut of the Black Panther character, the Black Panther Party was officially founded in Oakland, in 1966. Which came first is kind of a chicken-or-the-egg thing. In 1972, with Fantastic Four no. 119, Marvel unveiled a new name for the character. I reached out to writer Roy Thomas, who penned the comic in which T'Challa pulled on his costume and explained why he'd suddenly started calling himself 'the Black Leopard.'"
Since the debut of Marvel's Black Panther had coincided, roughly, with the rise of the Black Panther Party, that had made Stan [Lee] and Marvel concerned that we'd become identified with that group," [Marvel Editor-in-Chief] Roy Thomas said. "And we weren't for or against it."
The Ringer notes, "Neither for nor against neatly explained the Black Panther's politics at the time. Making the character be from a futuristic country in Africa was groundbreaking. But it also allowed the Black Panther character a certain distance from the civil rights movement that — wittingly or not — the series capitalized on. "The Black Leopard" didn't stick, but the creators' reticence toward directly commenting on the world in which Black Panther existed did. The Panther got his own series in 1973, written by a different white guy, named Don McGregor. Three years later, he took the Black Panther to the American South to fight the Ku Klux Klan, although that doesn't totally make up for the fact the Black Panther's first solo series was titled Jungle Action (yes, for real)."
There was a street level view to much of the superhero fighting that differentiated much of Marvel's comics from DC.
Seth Rogan said on Twitter: "Thank you Stan Lee for making people who feel different realize they are special."
Parkland shooting survivor Cameron Kasky said of Lee: "Always a true believer. If this news is true, my mild-mannered teenaged heart is broken. We lost the man who, alongside many other great creators, taught us that even silly dorks like us could be amazing, spectacular, and sensational. #RIPStanLee"
Later Kasky tweeted: "Well, as I turn in tonight, I'm daring myself to dream in big, bold, bright, beautiful colors in memory of Stan Lee, a man whose imagination opened countless worlds for nerds (like me) and non-nerds all over the world. With Stan in Asgard, we've all got a LOT of dreaming to do."
Shawn Arthur, a 5th grade teacher in the Bronx, who came to the states as an immigrant from Barbados said of Lee:  "He helped me to read more during a time when I hated reading as a child. And he helped spark my creativity to another level."
Stephen Veit, a molecular biologist from Albany, said "The X-men made me feel less of an outcast when I was starting to deal with being gay. A whole group of people who were loved by family and friends until this thing inside them changed and made them different, even though to themselves they were the same. I took comfort in that when I couldn't tell anyone else."
Rez Ones the graphitti artist and part of the visual art crew RezBoogie pointed out that in addition to Black Panther,  there was Luke Cage aka Power Man, and that Lee in terms of art taught him "Everything. To this very day,a very large portion of my creative output comes from the ideas/visuals/impressions come from the marvel universe."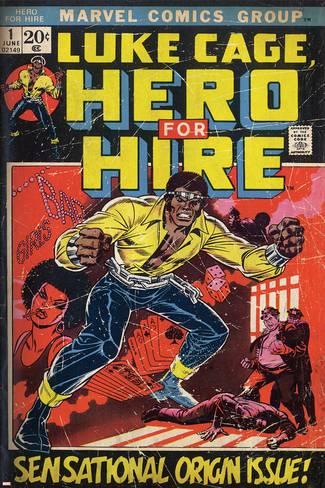 Luke Cage, Hero For Hire (Featuring Power-Man and later Iron-Fist) was another series that resonated with many or as Asian comic critic Amnat Chittaphong who came to the United States from Laos as,  "a young refugee child in this new foreign land and with no English speaking or reading ability," noted in a tribute to Lee,  "Stan Lee and Marvel comics made me feel like it's ok to be different here and that sometimes what makes us different can be our superpowers." 
'Nuff said.